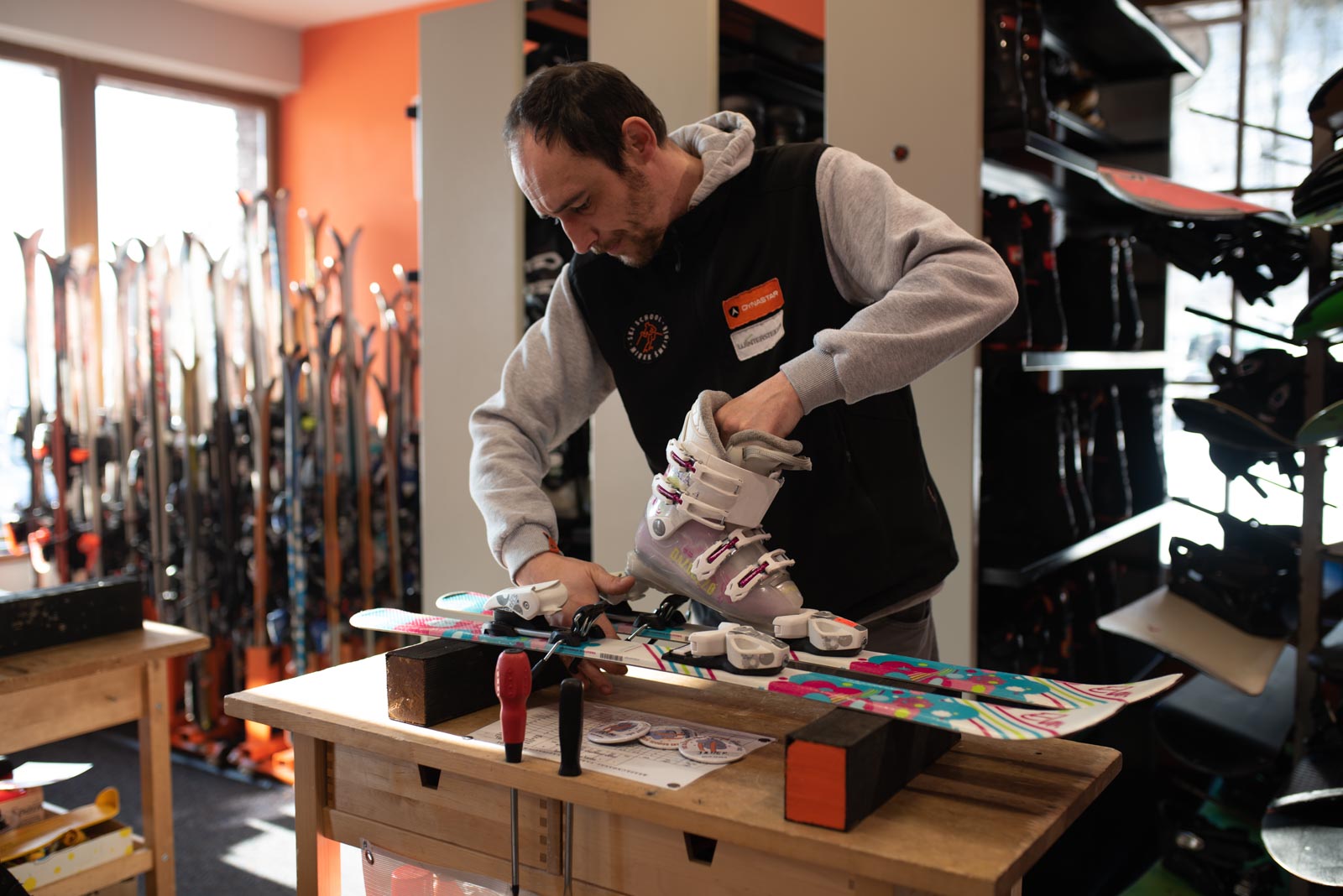 We will take care
of your skis
Only well tuned and waxed skis and snowboards ensure a good ride! We offer first-class ski and snowboard service in Černý Důl, using the Wintersteiger SBI machine, which boasts special Micro Finish technology and allows us to choose the right base structure and edge angles.
Quality service thanks to Wintersteiger SBI.
Bring your skis and snowboards and they will be waiting for you tuned in the morning.
Express service on demand based on availability.
Ski service
Ski centre service: Opening hours: 8:30–16:30
Town centre service: Opening hours: Sat - Sun 8:15–18:00, Mon - Fri 8:15–9:45, 15:30–18:00
Service offers & Price list
Minor service
Base & edge tuning, hot wax, polishing
| | Adults | Juniors (skis up to 140cm) |
| --- | --- | --- |
| Downhill skis | 450 Kč | 350 Kč |
| Snowboard | 590 Kč | 550 Kč |
Major service
Repairing holes in the base, base & edge tuning, hot wax, polishing
| | Adults | Juniors (skis up to 140cm) |
| --- | --- | --- |
| Downhill skis | 650 Kč | 500 Kč |
| Snowboard | 750 Kč | 650 Kč |
Waxing and other services
Waxing includes hot wax and polishing
| | Waxing | Small repairs |
| --- | --- | --- |
| Downhill skis | 190 Kč | Upon agreement |
| Snowboard | 250 Kč | Upon agreement |
| Cross country skis | 190 Kč | Upon agreement |
Binding
| | Binding assembly | Binding disassembly |
| --- | --- | --- |
| Downhill skis | 200-490 Kč (based on type) | 80 Kč |
| Snowboard | 250 Kč (with inserts) | 80 Kč |
| Cross country skis | 290-500 Kč (based on type) | 80 Kč |
Other servis works 150 Kč/15 minutes